Generic Information¶
Parameter Helper¶
To assist you during the process creation a parameter helper for transition actions is available. This tool shows the required and optional parameters for every transition action right when the module is selected: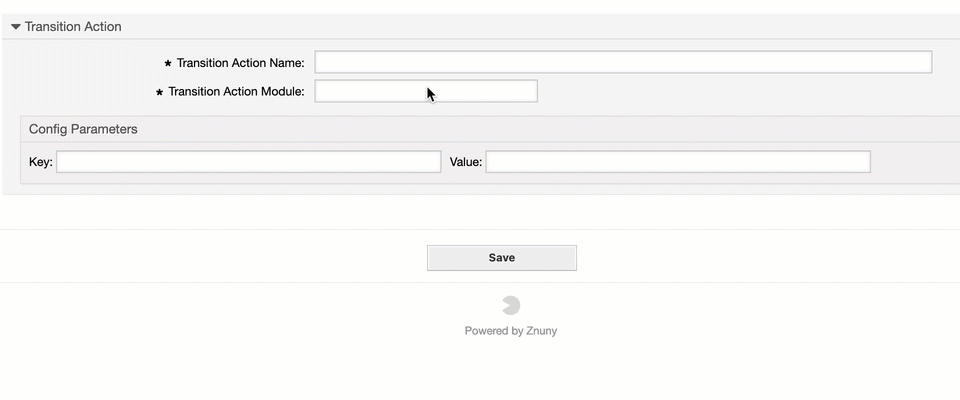 Mandatory keys have a * in the example field and they require always a value. For a detailed description of the modules read the documentation for them.
Note
For most parameters the ID of the attribute can also be used, like "Owner" and "OwnerID". Parameters for the same attribute should only be used once, e.g. "Owner" and "OwnerID" are redundant and different values might lead to unexpected results.
You can change the configuration for this feature by editing the system configuration ProcessManagement::TransitionAction::DefaultParameters###001-Framework. The existing setting can be changed and it is also possible to add new entries for your own developed transition action modules.
Common Parameter¶
Additional check for transition actions¶
The new parameter ProcessManagementTransitionCheck which is available for every transition action. If this parameter exists the module is only executed if the value is a ticket attribute and has a value.
In the following example the ticket state is only set if the dynamic field Example1 of the ticket has a value.

Possible ticket attributes could be:
CustomerID

CustomerUserID

Service / ServiceID

SLA / SLAID

DynamicField_XX
Every optional attribute of a ticket is useful for this check.
Executing transition action on other tickets¶
With the parameter ForeignTicketID and accordingly ForeignTicketNumber it is possible to execute a transition action module on another ticket.
The examples shows how the owner of the ticket with the number <OTRS_TICKET_DynamicField_MainTicketNumber> is set to root@localhost (UserID 1).

This functionality is available for every ticket related transition action module.